9 in 10 Brits think the Queen is wrong for her love of Twinings tea
Study reveals how regal Brits are by comparing their afternoon tea habits to the Queen's 
Here at Casumo, conducted a survey ahead of National Afternoon Tea month, and the Queen's 'actual' birthday on the 21st of April  and asked more than 500 Brits their preferences when it comes to having afternoon tea. 
Just like 'Liz', over two-thirds of Brits spread jam on their scone first, then cream 

1 in 3 Brits favour PG Tips over the Queen's beloved Twinings tea

Dunking is rather royal, with the Queen and two-thirds of Brits choosing to do so with a cuppa  

The Queen says 'no' to crusts while us Brits love to keep them on our sandwiches 
Jam or cream first? A debate that is heard across tea rooms around the UK. There's the traditional Cornish (jam first) and Devonshire (cream first) methods which continuously divide us Brits. 
Former Royal Chef, Darren McGrady, revealed that our Queen prefers to use the Cornish method of spreading a layer of jam first on her freshly baked scone, and in this aspect the British public are as royal with a whopping 67% of us agreeing with 'Liz' that jam should always go first, followed by the cream.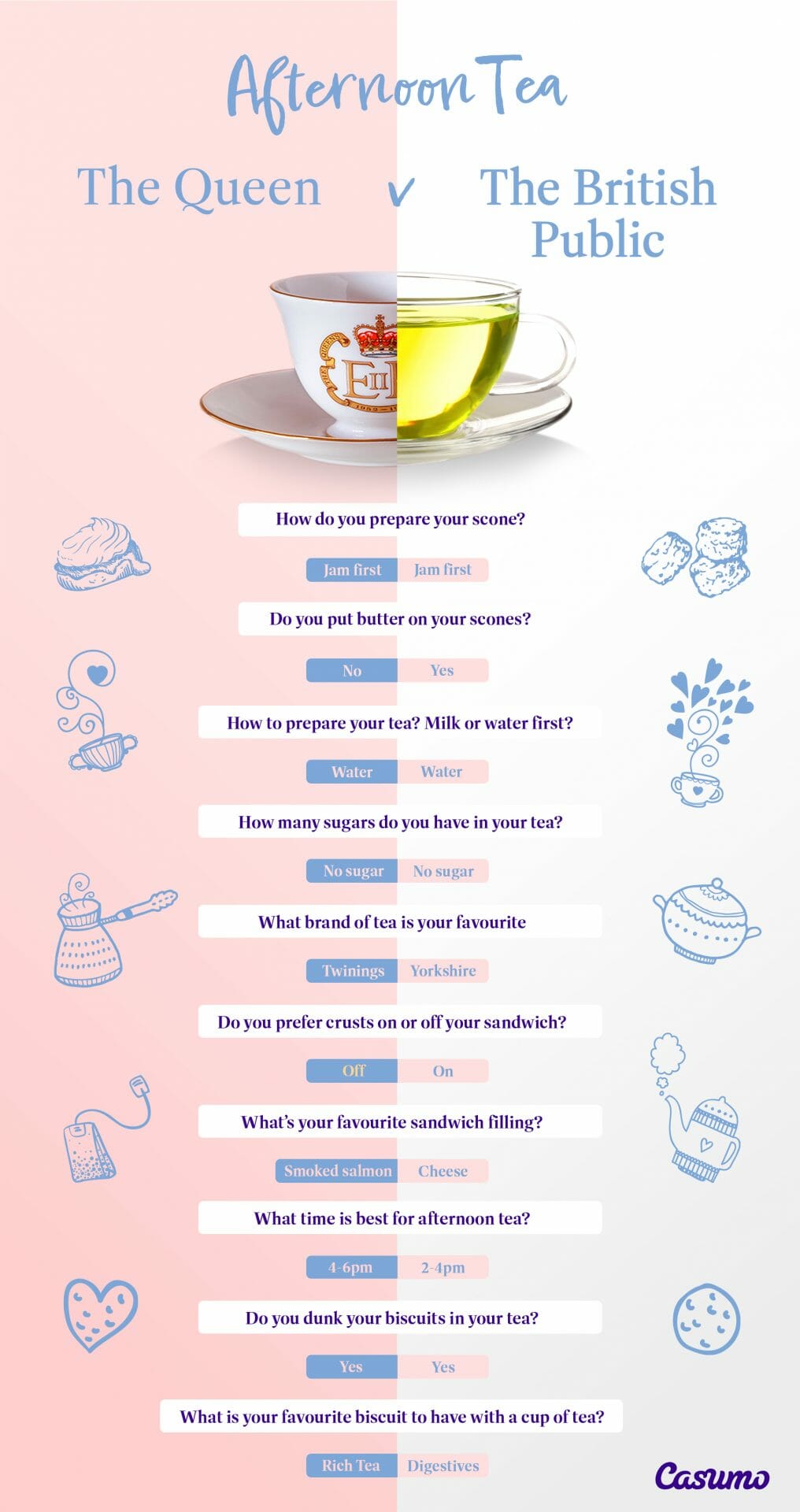 But is it royal to add anything else to your scone?
The Queen doesn't think so but us Brits clearly aren't following royal protocol, as three-quarters also like to add a knob of butter into the mix. The biggest group of butter offenders were men!  
And the differences between Queenie's methods and ours don't stop there. In Buckingham Palace, the ideal time for high tea is 5 pm, whereas us Brits prefer to indulge in the tiers of savoury and sweet treats between 2 pm and 4 pm. Our treasured Elizabeth II says her favourite sandwich filling is smoked salmon but only 1 in 6 brits concur. It seems we prefer a classic cheese sarnie.  
So which area in the UK is the most regal with their afternoon tea habits? It turns out those Brits who mimic the Queen's eating habits the most are Londoners, specifically women over the age of 64. Scottish men aged 25-34 were deemed rather unroyal when it came to their preferences.