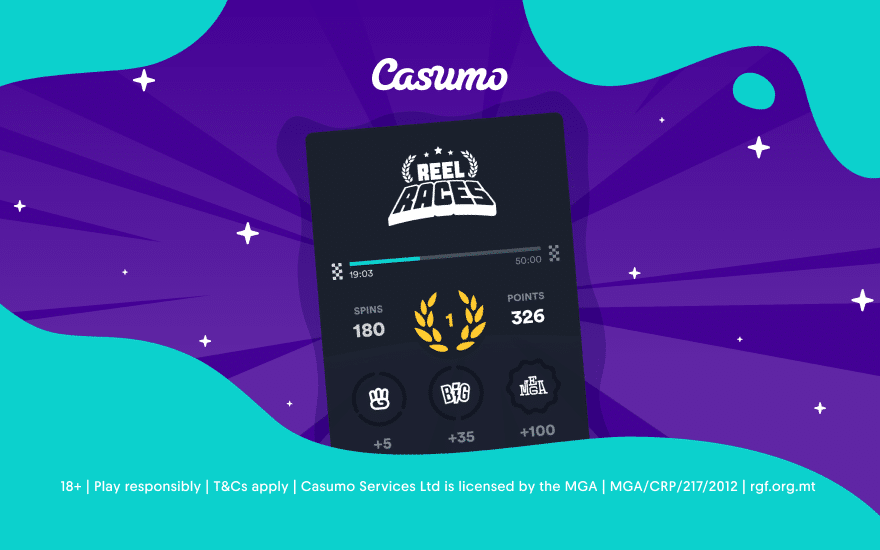 Sharing Insights: Casumo Reel Races
Casumo Reel Races: Action-packed casino tournaments
For this Sharing Insights blog post, we felt it was about time to shine a spotlight on our Casumo Reel Races. Where you get to experience new and popular slots, compete against other players and win bonus cash prizes. For those of you who aren't already familiar with the concept: The Casumo Reel Races are our action-packed casino tournaments running several times a day, all year round. Every win you make in the selected slot for that race will give you points with which you rank on a real-time leaderboard.
To race, you need to play an online slot by spinning as fast as you can and collect as many wins as possible before the time is up or until you run out of spins. By winning you collect points, and you can also trigger 3 types of point boosters that will propel you up the leaderboard. The player with the most points wins the race.
Read on to find out loads more about Casumo Reel Races!

How it all began: Challenging industry concepts

Here at Casumo, we always knew we wanted to create the world's best online gaming experience. And then, about seven years ago, we identified a big problem. Most online gaming sites were offering similar product portfolios with limited enhanced experience during game play. Casumo wanted to be different and to make the player experience more engaging. That's why we invented Casumo Reel Races, a different kind of online casino tournament. When we looked at what the industry was offering we found that most online casinos offered tournament experiences that were rather weak in execution and didn't offer much player interaction. With this in mind, we went to the drawing board and started sketching the future of online casino tournaments. What we wanted was a fast-paced, real-time, immersive experience – and we accomplished all this with Casumo Reel Races! We managed to find the perfect balance between design and user experience to keep everyone on their toes, with a chance to win extra cash, of course. 
The Reel Races in Numbers 
The initial reaction from our players was overwhelming and as time went by, the Casumo Reel Races numbers continued to grow steadily. During the past three months, more than 175,000 players joined a Casumo Reel Race spinning over 75 million times and grabbing a total of 1 million euro in cash prizes. We also gave out more than 1 million free spins to those who joined. Now that's impressive!
What makes the Casumo Reel Races so special?
Top notch real-time, in-game Experience
The main focus of Casumo Reel Races is the unique in-game experience offered during gameplay. Thanks to our real-time leaderboard, you can keep track of your own spins as well as your opponents while racing. By winning you collect points, and you can also trigger 3 types of point boosters that will propel you up the leaderboard. The player with the most points wins the tournament.
Opt-In / Notifications
Before a Casumo Reel Race begins, everyone that signed up for a particular Reel Race receives a notification via the notification panel on casumo.com. For players that opted in on mobile, they'll also receive an SMS reminder 30 minutes before start time and another SMS after the race ends, informing them of the position they managed to obtain.
Reel Races Leaderboard
As soon as a Casumo Reel Race begins, the sidebar turns into a real-time animated leaderboard. This is where you can keep track of your points, boosters and current position within the leaderboard. Once the tournament ends, the leaderboard shows a summary of the winners and prizes they've collected and what games others were playing (and winning on). 
Desktop, Mobile and Casumo App
Besides joining the Casumo Reel Races from your desktop you can also join on  mobile (you can easily check when the next race is on by tapping the Casumo Reel Races tab) or directly from the Casumo Android or iOS App. You can keep a close eye on the leaderboard whilst competing to get to the top spot. You'll also get real-time updates with your tournament position, remaining spins and points without ever leaving your game.
Ready to try Casumo Reel Races?
All you need to do to join and compete against other players in your favourite online casino tournaments is register an account at casumo.com – if you haven't already done so. Log in, select Casumo Reel Races, opt-in to the next Reel Race and tap the play button for a whole lot of spinning action.
Terms & Conditions
The 'Reel Races' are a Video Slots tournament based promotion.

The Reel Races start at specific times during the day and only run for a certain amount of time.

The Reel Races are time based. Only spins that are fully completed within each Reel Race timeframe will count towards your total.

Players must opt-in to each race.

Each Race has a limited amount of spins available.

Only spins from the qualifying game after the start of the Reel Race count towards your total. The eligible game for each Reel Race will be displayed next to the related Reel Race.

Reel Races can be played in qualifying games only.

Once the maximum number of the Reel Race spins has been completed, no further points will be awarded.

The winning players will be determined using a ranking system
Ranking calculation system:
Win = 2 points will be awarded

Big Win = (15 times the last bet or more), 20 points will be awarded

3 wins in a row = 5 points will be awarded

2 big wins = 35 points will be awarded

Mega Win (30 times the last bet or more) = 100 points will be awarded

You can participate in a Reel Race using Real Money or Bonus Money. Use of Free/Bonus Spins earned through other promotions will not count towards leaderboard progression.

In the event of a tie where players finished the Reel Race with the same number of points, the winner will be decided by the player who achieved the final score first.

All prizes will immediately be credited following the conclusion of the Reel Race.

In the event of a technical issue the Reel Race will be declared null and void.
Casumo General Terms and Conditions apply.
---
18+ | Please gamble responsibly | T&Cs apply | rgf.org.mt