Monopoly Slot Properties Photographed in Real Life
Is there anyone in the whole wide world who hasn't heard of Monopoly? Well, it's one of our all time favs. It's so darn popular that it's known even by our friends the casumos in their parallel universe. In fact, they got so curious about it that they asked us to send them pics of all the posh places in London mentioned on the classic Monopoly board game. Because here at Casumo we're not simply an online casino –we're also an Interface between our universe and that of our rubbery alien friends.
Armed with a camera, we went around London shooting each property on the board. We sent the photos to our friends and were rewarded with a game of Super Monopoly Money, the best Monopoly slot in the known universe.
As we went snapping around we couldn't help but value each property (based on its estimated 2011 value and then applying an index increase). It turns out that Old Kent Road is now worth a lot more than most of the yellow and red properties. Scroll down to see our photos of Monopoly locations in real life.
Old Kent Road
We took a chance and went back to Old Kent Road, the longest road on the Monopoly board. It used to be the least expensive property in the game but its value today is £354 million. Wowza.
Whitechapel Road
Now the A11, this road has been the home of many settling communities making a new life in London. Unfortunately our friendly casumos cannot travel to Earth so they cannot settle here. The only way we can communicate with Casumo's is via the Interface (aka Casumo.com)
Kings Cross Station
The gateway to The North by train, Kings Cross Station is also home to Harry Potter's 'platform 9 3/4'.
The Angel Islington
This property takes its name from a pub that was once on the junction of Islington High Street and Pentonville Road.
Euston Road
Casumos were rather impressed with this road, home to the giant new British Library building, constructed with more than ten million bricks.
Pentonville Road
Where is Pentonville Prison? Not on Pentonville Road! This is quite a boring road really–the casumos were happy to move on to the next photo.
Pall Mall
Pall Mall's name originated from from a 17th century game called paille-maille which was enjoyed by the upper classes. Needless to say, our friends were really fascinated by this game.
Whitehall
Linking Trafalgar Square and Parliament Square, Whitehall is home to many Government offices. Yawn.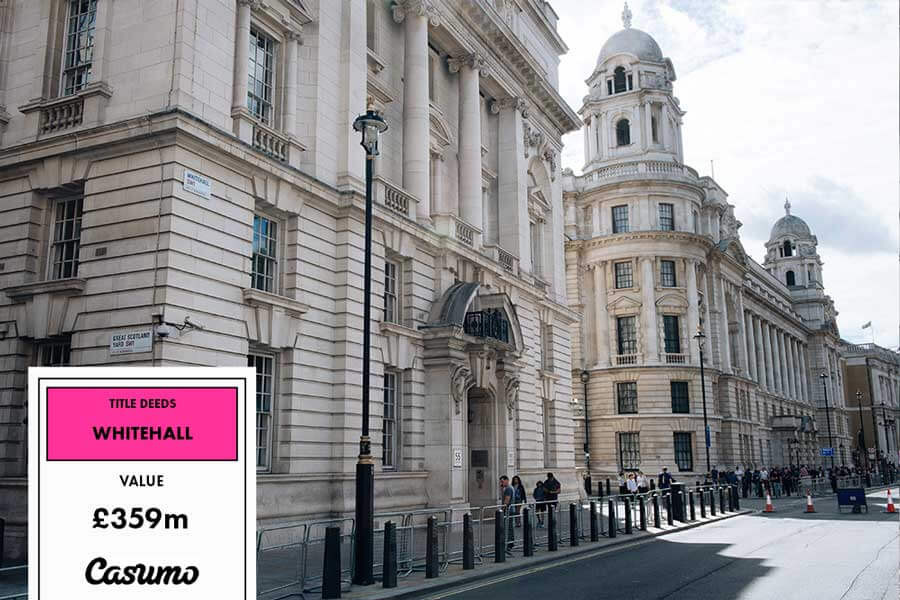 Northumberland Ave
This is the home to the MET Office. Casumos are fond of rainbows (and unicorns, of course) so this Monopoly property was of particular interest to them.
Marylebone Station
There's surely a bone in Marylebone station, even if it's the smallest and most recently built of London's mainline stations. There are no trains on the casumos home planet (Planet Odd), but if there were they would have loved to build a station like this.
Bow Street
No need to bend the head when crossing through Bow Street, called so after its curvy shape. Here you might hear some merry singing since it's home to the Royal Opera House.
Marlborough Street
This street was once home to a Magistrates Court, which has had many famous defendants including John Lennon. Imagine.
Vine Street
By far the shortest of the streets on the Monopoly board, for the life of us we can't figure out why this would actually feature on the Monopoly board. Please help us out in the comments below if you have any ideas.
Strand
This 1,200 meter long stretch of expensive road was once the centre of fine dining and theatre in the Edwardian era. Edwardian. That's a funny word.
Fleet Street
Named after the River Fleet, which runs from Hampstead to the River Thames, this famous street was once home to most of Britains' newspapers. Most of the journo's we know are now based in East London though.
Trafalgar Square
So it was named after a famous battle but that was a long time ago and time heals all wounds. Today you'll find the National Gallery and National Portrait Gallery around this square. And of course, Nelson's Column (not in picture).
Fenchurch Street Station
Another surprising choice for the Monopoly board, why was this station chosen above others? Any ideas?
Leicester Square
No, it's not named after the cheese. The square got its name after Leicester House, once home of Robert Sidney, 2nd Earl of Leicester. It's a place of great fun since it is home to London's leading cinemas, and host to many a movie premiere.
Coventry Street
Another fun place with restaurants, nightclubs and many shops, this busy street lies on the West End, linking Piccadilly Circus and Leicester Square. It was named after Henry Coventry a politician.
Piccadilly
Not Piccalilli silly, it's Piccadilly, named after Robert Baker, a tailor who lived on that street and sold decorative collars called piccadills. It's a place of very old bookshops, shopping malls, The Ritz Hotel, St James' Church and the first, original, true Hard Rock Café. But there's no circus in Piccadilly Circus.
Regent Street
Oh prince. This very trendy street was laid out in the early 19th century by John Nash for the Prince Regent,who later became King George IV.
Oxford Street
There once was a river called the Tyburn beneath this world-famous street which used to be called Tyburn Road for some strange reason. Some also say there's a secret street that runs underneath. Imagine that. Oxford street today is 1.2 miles long, running from Marble Arch to Tottenham Court Road.
Bond Street
James Bond never lived here, but he is somehow connected with the name. Well sort of. It was constructed by a certain Thomas Bond who's family motto was Orbis non sufficit, which means 'The world is not enough'. Bond Street houses world-famous brands from the fashion world such as Armani, Gucci and Yves Saint Laurent.
Liverpool Street Station
The station, built for the Great Eastern Railway, was opened in 1874 and remained little changed until major redevelopment in the late 1980's. It retains its grand Victorian roof and now attracts over 100 million visitors every year.
Park Lane
From country lane on Hyde Park to one of the most sought after streets in London with lots of luxury car showrooms, hotels and banks. Don't park on the grass please, use the lane.
Mayfair
It maynotsoundfair but this right here is the most expensive property on the Monopoly board and it's not even a street at all. Mayfair is an exclusive area originally inhabited by the very wealthy. If you want to catch a glimpse of someone famous, you've got bigger chances to catch them right here.
Epic Casumo Monopoly Slot Trip
That's the end of our Monopoly photo tour. The casumos loved it and we hope you did too. And if you treasure the game as much as we do, why not check out these amazing Monopoly games:
To buy the official board game goto Hasbro. But if you want to try the best Monopoly slot ever goto Super Monopoly Money. Casumo online casino has also a brand new Monopoly slot called Monopoly Bring the House Down as well as an amazing list of Monopoly themed games:
Epic Monopoly II
Monopoly Big Event
Monopoly Once Around Deluxe
Monopoly Roulette Hot Properties
---
18+ | GambleAware
Play responsibly, for advice visit begambleaware.org