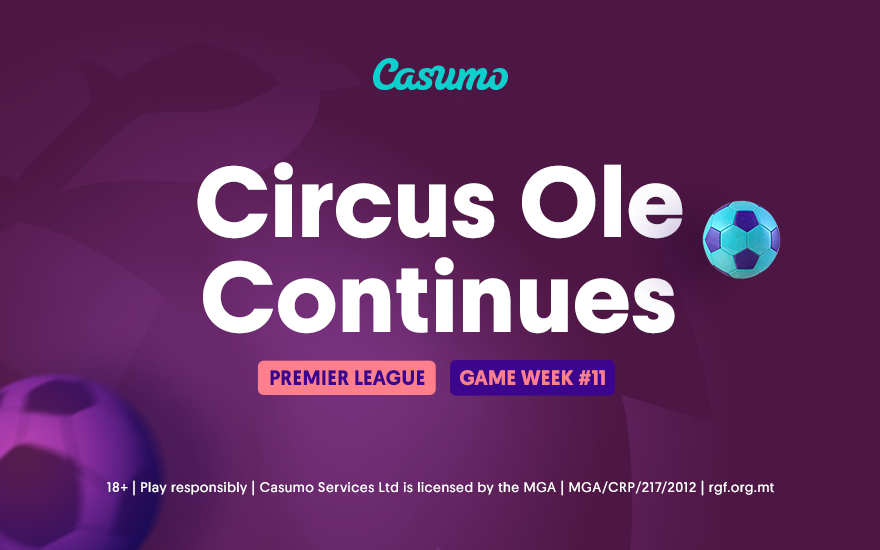 Circus Ole continues
Unpredictable, laughable, sad, fun, entertaining, pathetic… it's been a funny old month for Manchester United and we're now unsure what to think.
The 5-0 spanking by Liverpool was both laughable and sad. It was almost painful to watch for the neutral, like a lion mauling an already wounded gazelle. Way too simple, no chase, no fun, just carnage.
Liverpool didn't even need to shift gears as they ripped their way through the lacklustre Manchester United defence and non-existent midfield. 
Yet, somehow, United then pulled a rabbit out of the hat and put three (3!) past Tottenham Hotspurs… who could also be described as laughable and sad too. That game cost Nuno Espirito Santos his job, as the joyful Antonio Conte was drafted in to "stabilise Spurs and make them challengers" (his words not ours…)
Stable and challengers are words we won't associate with Ole Gunnar Solskjaer's Manchester United right now as his circus act continues against Manchester City this Saturday (gulp)
Midweek Champions League games brought mixed results for the Manchester clubs, but as United celebrated a draw against Atalanta, you'd almost feel like they are turning the tide. Don't get your hopes up too much however, as for the most parts they still looked lost and unpredictable in Bergamo.
Being unpredictable in football is fantastic, but not in the Man United way of being unpredictable. It's more a haphazard type of style. You don't know which players will actually show up, which tactical shape they will attempt, or ditch midway through a game. The only certainty United have going for them right now is Cristiano Ronaldo's brilliance.
He is dragging United through the group stage of the Champions League and is pulling the strings on his own. Some pundits argue he is only papering over the cracks, while others feel he is the problem as he simply can't hold a high press or track back when needed to.
Yes, there are cracks, and paper won't help here. United's hull has a hole in it, and the ship needs to be dried out before they can attempt to race her. But, having Ronaldo is at last making her ship shape to limp over the finishing line when needed. Afterall his late first half goal and even later second half goal against Atalanta may have saved United's European campaign.
There's a lot more work which needs to be done before United can challenge and this is now becoming entertaining to watch. Still, Ole looks to have saved his job, sending Conte to London by thrashing Spurs. He's out there playing 4D chess in the ultimate game of managerial hot chair.
In theory, City should destroy United this Saturday. There'll be no Paul Pogba after his dismissal against Liverpool, so Ole will most likely stick to McFred in the world's slowest midfield anchor. 
The Spurs game was at least brave. They changed the tactical system, going for a 3-5-2 which worked wonders against a poor side. But don't forget, Spurs are a poor side, so that result can not be exaggerated. It was good, but not a turning point.
Manchester City are beatable, as Crystal Palace found out last weekend. Patrick Vieira even managed to somehow stop City from scoring, which is a feat in itself. But when it comes to the big games, which team is more likely to show up? City, Champions with a mature team, or Manchester United, who right now look like a school kid who's got his shoes on the wrong feet.
All instincts point to a City win, an easy one too… but with Manchester United, you simply never know… so just enjoy the show, the Circus Ole is back in town!
Get Man United to win at 19/5 with Casumo
18+ | Play responsibly | Odds subject to change | Casumo Services Ltd is licensed by the MGA | MGA/CRP/217/2012 | rgf.org.mt